SERVER STREAMING LIFETIME
One-time payment, service active forever! ! 1
AUDIO LIFETIME
Free Installation:
Type: Shoutcast v2
Autodj:
Autodj space: 25 Giga
HTTPS STREAMING:
Bitrate: 128Kbyte
Monthly Traffic: Unlimited
Maximum ratings: 300
Control panel: SONICPANEL / CENTOVACAST
Support:
Link Player:
DDOS protection:
Question and Answers!
What does a single payment mean?
Once you have purchased the service, the server will be yours forever. *!
Is assistance also for life?
Yes, assistance is guaranteed for life on streaming services.
Satisfied or your money back?
We will reimburse you in case of disservice deriving from connectivity problems.
Is it possible to pay by bank transfer?
Of course, when purchasing the service you will be provided with your bank details.
Is it possible to get more info?
Write to us via livechat, one of our assistants will answer you as soon as possible.
Is a free trial possible?
Yes of 48H, write to us in livechat or by email at
[email protected]
SSL ( HTTPS ) SHOUTCAST E ICECAST
Server89.com has adapted to the rules imposed by Chrome in February 2020, regarding http audio streams in https pages. Our services have full https support included in the price. As you can see from the screen below.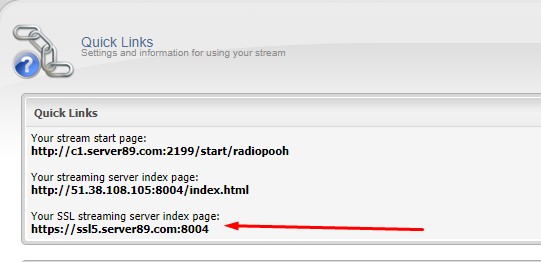 ---
The advantages of streaming in https?
Why choose our streaming with centovacast?
Our centova cast streams boast an uptime of 99.9% (Under Farm OVH)
You also have a technician available 24 hours a day ready to help you with all your doubts.
Our professionalism and our prices make it an unmissable offer .
1 The term for life means the life span of our company "Server89.com", in case failure of it, the service will be deactivated by reimbursing a small part of the service (according to the time traveled since purchase).
It is important to specify that in case of bankruptcy, our customers will receive the communication at least 30 days before the closing of the streaming services. We would also like to specify which company Server89.com has growing annual profit!


2 By continuing with the purchase of lifetime streaming services, the user agrees to have viewed and confirmed the text written in line 1 .